There is a new & unique surgical tool now available!
One of the newest, unique surgical tools is now available for cervical disc replacements at First State Spine. This device is the first and only cervical disc replacement in the U.S. approved to treat more than one level of the cervical spine with fewer complications, fewer operations, and quicker recovery times. Dr. James Zaslavsky has completed thorough training in the use of this new device.
Cervical Disc Replacement
Total disc replacement is a safe and effective procedure that allows for rapid recovery and minimal downtime. Since this procedure does not involve fusion, the risk of adverse disc problems is significantly reduced, while the normal motion of the spine is maintained. Following surgery, patients do not need to wear a collar and can return to normal activity almost immediately. This procedure is performed in a safe operating environment of First State Surgery Center and patients can return home just a few hours after it is complete.
Normal Motion of the Spine is Maintained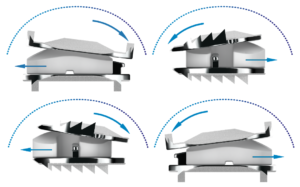 Dr. Zaslavsky's primary focus is always on the overall well-being of his patients. Call 302-731-2888 today to schedule an evaluation or a second opinion with Delaware's Top Doc for Spine Surgery.