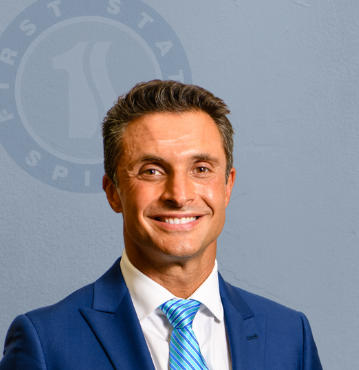 ABOUT DR. ZASLAVSKY
Dr. James Zaslavsky earned a physical therapy degree, from the University of the Sciences in Philadelphia and practiced for three years as a physical therapist. He attended medical school at the Philadelphia College of Osteopathic Medicine where he graduated with the highest honors, while concurrently earning an MBA from LaSalle University. Dr. Zaslavsky completed a residency in orthopedic and spine surgery at the Rothman Institute at Thomas Jefferson University Hospital. He performed his specialty training in spine surgery at Twin Cities Spine Center where he pursued a special interest in the surgical management of the cervical spine and minimally invasive surgery.
This year Dr. Zaslavsky was nominated again by his peers for the honor of Top Doc 2019 – Orthopaedic Spine Surgery. Not only was Dr. Zaslavsky named #1 in Orthopedics of the Spine he was also recognized as one of 4 doctors across Delaware that go the extra mile when it comes to caring for their patients.  Meet 4 Delaware Doctors Focused on Providing Top-Notch Care.
Dr. Zaslavsky currently belongs to the Cervical Spine Research Society, American Medical Association, American Academy of Orthopedic Surgeons, and the Delaware Society of Orthopedic Surgeons. He specializes in operative care of the adult spine with a focus on the treatment of the cervical spine and the use of minimally invasive surgical techniques. This focus, combined with the use of the most advanced technology, uniquely enables Dr. Zaslavsky to preserve and optimize the motion of the spine utilizing the safest techniques possible. His patients benefit from less postoperative pain and achieve the highest level of function possible.