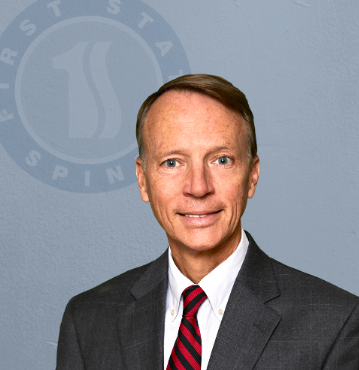 ABOUT DR. DOWNING
James E. Downing, M.D., a Delaware native, is a graduate of Tulane University School of Medicine. He performed residency and fellowship in Anesthesiology and Pain Research at Tulane and The Ochsner Clinic. Dr. Downing is Board Certified in Anesthesiology and Sub-Specialty Board Certified in Pain Management.
He has authored journal articles on pain management and presented research to the American Society of Regional Anesthesia.
During active duty in the US Army Medical Department, Major Downing was Chief of Anesthesia and Operative Services at Bayne Jones Army Hospital. In 1991, Dr. Downing joined the staff of Ochsner Foundation Hospital, New Orleans, where he was Clinic Director of Anesthesiology and President of the New Orleans Anesthesia Society. In 2000, Dr Downing became an associate at Christiana Care's Spine and Pain Care Clinic. In 2003, Drs. Downing and Witherell founded Interventional Spine Pain Consultants, specializing in the treatment of the adult spine.
Dr. Downing is Medical Director of SpineCare Delaware, a member of the State of Delaware Health Care Advisory Panel as well as The International Spine Intervention Society and the American Association of Interventional Pain Physicians.