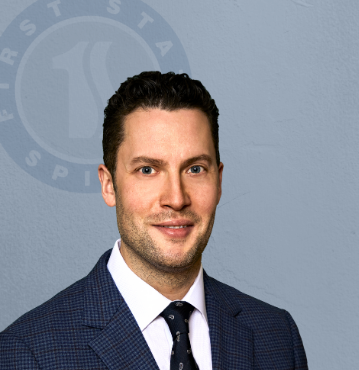 DR. KENNETH J. LINGENFELTER, D.O.
SPECIALTIES
Surgery of the cervical, thoracic, and lumbar spine

Minimally Invasive Spine Surgery

Revision and Reconstructive Spinal Surgery

Minimally Invasive outpatient and short-stay spinal surgery

Care of injured workers

Regenerative Medicine of the Spine
ABOUT DR. LINGENFELTER
Dr. Lingenfelter received his medical degree from the Philadelphia College of Osteopathic Medicine. He completed his internship and residency training in Orthopaedic Surgery at Pinnacle Health Systems and Hershey Medical Center of Pennsylvania. During his residency, he received dual training in both Orthopaedic Spine Surgery and Neurosurgery. He also underwent specialized training in Orthopaedic Pediatric Spine and Trauma surgery at Children's Scottish Rite in Atlanta, Georgia. Furthermore, Dr. Lingenfelter received specialized training in Orthopaedic and Spinal Tumor surgery at the Johns Hopkins Medical Center in Baltimore, Maryland. Dr. Lingenfelter then advanced his extensive training in Spinal surgery with a combined Spine fellowship in Complex Reconstructive Spinal surgery in adult and pediatric spine at the Louis A. Goldstein fellowship and AO Spine Trauma fellowship at the University of Rochester in New York.
Dr. Lingenfelter has been practicing Orthopaedic and Spinal surgery since 2008. He specializes in adult and pediatric spine care. Some of the procedures he performs include kyphoplasty, artificial disc replacement, microdiscectomy, spinal decompression, spinal fusion, deformity, and scoliosis surgery, along with minimally invasive spine surgery and complex revision spinal reconstruction. He uses minimally invasive surgical techniques to decrease complications and reduce recovery time to get his patients back to enjoying their lifestyle and activities.
Dr. Lingenfelter attends and participates in international and local Orthopaedic and Spine Conferences to provide the most up-to-date care for his patients. He is passionate about medical education and furthering clinical research for the advancement of future spinal care. He currently serves on the American Osteopathic Academy of Orthopedics Editorial Committee, the Resident and Fellow Editorial Sub-Committee, and also as a peer editor for The Spine Journal. Dr. Lingenfelter is Board-Certified in Orthopaedic Spine Surgery and currently serves as a Board Examiner for the Spine Section of the American Osteopathic Academy of Orthopedics.
Dr. Lingenfelter is now Ortho Spine Section Chief of Christiana Care Health System.
PATIENT TESTIMONIAL
It all started in 2001 when I fell and fractured and displaced my vertebrae . (I had been an athlete my entire life.) Within the year at age 40 I had a somewhat successful PLIF at L5-S1 and a disc replacement for spondylolysis. Initially I was doing quite well for many years, able to exercise to a certain extent and was on no pain medicine up until 2012 when my symptoms became increasingly worse for three years. At that time in 2015 it was recommended to me by another practice to place a spinal cord stimulator (SCS) for my severe radiating pain down my legs and for general spinal pain (and all the rest – tingling, pins and needles, numbness,weakness etc). I was unable to work or drive without serious pain and was on pain management with the usual narcotics. Following several rhizotomies, facet joint injections and all that comes with these, the SCS ended up disastrous. It was placed poorly in my thin body and got dislodged within 6 months.
In 2017, I began to desperately seek help for my horrendous situation and what to do about being in the worst physical and mental state of my life. University Medical Hospital surgeons gave me no hope except for the immediate removal of the SCS and claiming that it should have never been put in in the first place. The day I walked into Dr. Lingenfelter's office was a blessing I will cherish always. From the very first moment meeting him, he made me feel there was hope. Without making many promises, we worked together towards a plan, removing the failed SCS and then one month later replacing the old screws and rods/cages and disc transplant with new ones plus another level up. To me it was a miracle. Three months post operatively I was already appreciating an improvement in my legs. I knew from the beginning that he wasn't going to be able to fix all my problems due to severe scarring and adhesions and arthritis among other things but sure enough he gave me my life back. Now almost a year post -op , surely I am very limited physically keeping in mind I was previously a competitive athlete, but with minimal daily pain medicine, and I mean minimal, and changing my life style, (stress and anxiety free as much as possible), I can look forward to a stable way of life and know that whatever I may need in the future I have Dr. Lingenfelter to count on no matter what.
Dr. Ken is a superb surgeon with tremendous attention to detail. He is sincere, honest, with a wonderful sense of humor-something that makes the patient feel right away that you're right at home. He has significant experience that became obvious to me since my condition was extremely complicated, and he was able to make the right diagnosis and choose the the best surgical care for me. I recommend Dr. Lingenfelter to anyone who has any problem, from the simplest to the most complex orthopedic/spinal issue. To be honest, he most likely is one of the top surgeons I have come across all these years that is highly qualified about the spine-one of the most intricate, complicated structures in the human body. Please take my word. You will only find better days after seeking his advice. Good luck and make the right decision.
All my best, Asimina